Wellcome to DANSBJERG
Norwegian Forestcats since 1989 We have now stopped our
breeding, and we are
closing down our cattery
Do you want to see pictures, please go to the danish page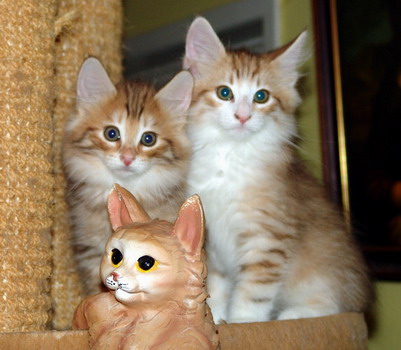 Last updatet: 22-11-2010
The Cattery:
We live on a large farm, far out on the
countryside, in very beautiful and peace-
fully surroundings. There is a lot of space.
We have big catyards for the cats, with
natural vegetation, and good climbing
possibilities. Our kittens is growing up in har-
mony, together with the Family, with lots
of contact and love.
We have now stopped our breeding, and we are closing down our cattery


The History :
We have been breeding Norwegian Forestcats

during the last 20 Years.

In our breeding we have found it very important

to improve the cats good temper, to make them

as fine pets for a family as possible.

Also to save the beautiful types, wich we were lucky,

to buy to begin with, after we had been living in

Norway for several years.

At the same time, we have aimed to promote

the breedinglines ability to produce the most

homogeneous types in each litter as possible.

The good results is gaint through our big breeding-

material, and a very selectiv effort.

9 Europachampinons, many G.I.C. and I.C.,several

Best in Show, with our own cats, and good show

results on the many kittens, we have sold.
We have now stopped our breeding, and we are closing down our cattery